Developer: Ubisoft Studios
Publisher: bisoft
Genre: Action
Platform: PC / Windows
Size : 3.21 GB
Minimum System Requirements –
* OS: Windows® XP SP3 / Windows Vista® SP2 /Windows 7® SP1
* CPU: Intel Core®2 Duo E4300 @ 1.8 Ghz or AMD Athlon64 X2 4600+ @ 2.4GHZ
* RAM: 1.5 GB Windows XP / 2 GB Windows Vista – Windows 7
* HDD space: 12 GB
* Graphics: 256 MB with Shader Model 3.0 or highe
* DirectX: 9
Recommended System Requirements
* OS: Windows® XP SP3 / Windows Vista® SP2 /Windows 7® SP1
* CPU: Intel Core®2 Duo E6700 @ 2.6 GHz or AMD Athlon64 X2 6000+ @ 3.0Ghz or better
* RAM: 2 GB
* HDD space: 12 GB
* Graphics: 512 MB with Shader Model 5.0 or higher
* DirectX: 9.0
Supported Graphics Cards:
Supported Video Cards at Time of Release: AMD® Radeon HD2000/3000/4000/5000/6000 desktop series
nVidia GeForce 8/9/GT200/GT400/GT500 desktop series
Laptop versions of these cards may work but are NOT supported. These chipsets are the only ones that will run this game. For the most up-to-date minimum requirement listings, please visit the FAQ for this game on our support website at
http://support.ubi.com.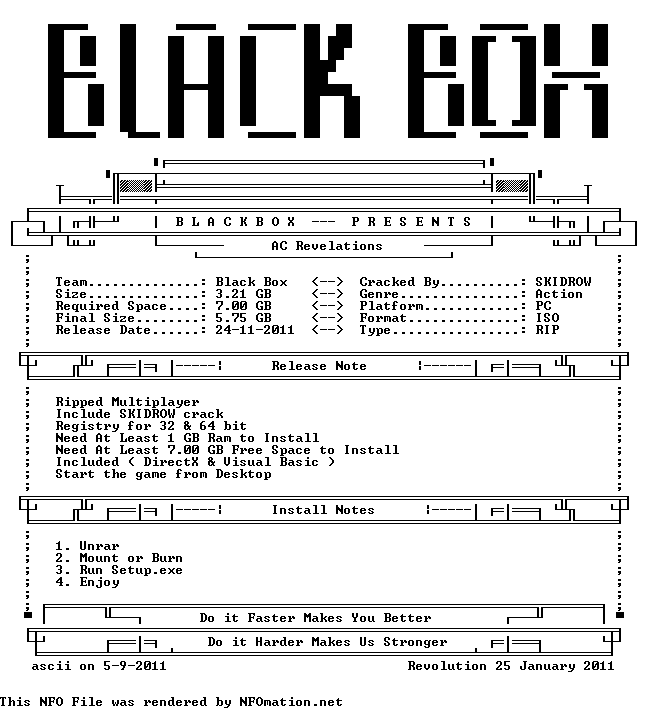 Download Link
Part 1
mediafire.com ?3wd5iqip4a9nxrk
Part 2
mediafire.com ?jw30z4uc1gz0h5o
Part 3
mediafire.com ?7ynjpbdtnkg03hi
Part 4
mediafire.com ?h1yo9h8r1yrbhhn
Part 5
mediafire.com ?bs3q23ktxs10716
Part 6
mediafire.com ?khno3p44djunvd1
Part 7
mediafire.com ?6h8aj902gxrb6od
Part 8
mediafire.com ?0otgcz60xgyl41b
Part 9
mediafire.com ?qb1md1duma8xwg1
Part 10
mediafire.com ?f0bonsna62t51lk
Part 11
mediafire.com ?e7el7yaqwseff5w
Part 12
mediafire.com ?a4mvl539rvwqefm
Part 13
mediafire.com ?64sot9vqpaqavv4
Part 14
mediafire.com ?jbwe8bk8rl63i5y
Part 15
mediafire.com ?zbasrqycf9aozvx
Part 16
mediafire.com ?erwcxvv3ye7eacd
Part 17
mediafire.com ?oll73q08dtdd0i1
Part 18
mediafire.com ?1aasd7icg17ka6k
__________________________________________________